National Signing Day is this Wednesday, February 7. Like every other year, the SEC and ACC are dominating the recruiting wars again.

Most of the top prospects have committed to their school of choice, but a few big names remain uncommitted and of course there are always the Signing Day Surprises (Marcus Stroud).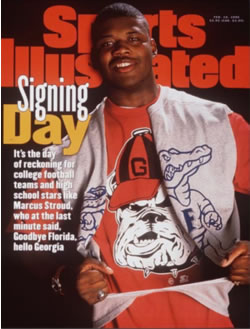 dawgsonline.com
Scout Top 100 Players

Florida has racked up many top recruits this year and LSU is looking for a strong push at the end to challenge the Gators for the top spot.

Scout Team Rankings

After their national title, Urban Meyer went on a recruiting tear securing committments from some of the top players in the nation even convincing a few to switch to Florida from other top schools

Scout Conference Rankings

Georgia Tech is surprisingly leading the ACC, but expect Florida State and Miami to make a late push

Scout Position Rankings

Check out each team and where they rank for each position


Rivals Top 100 Players

Jimmy Clausen and Joe McKnight top the rankings again
Rivals Top Players By State
Florida, Texas, and California dominate the rankings
Rivals Team Rankings
Rivals 2007 Junior All-Americans
Just in case you want to go ahead and get a start on next year