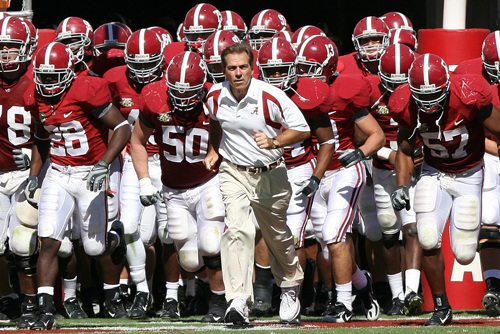 Nick Saban May Have His Toughest Job Trying To Repeat in 2010
Alabama's Spring Practice culminated in the A-Day game Saturday with the work already begun to repeat as national champions.
Nick Saban's club will be favored in every game next season and likely by at least a touchdown each time they take the field. So just who is Alabama's toughest opponent next season?
Penn State? I would not bet on a new starter winning his first game in Bryant-Denny.
LSU? The Tigers return a solid core of players, but questions on the offensive line and quarterback remain.
Florida? Maybe, but the Gators too have a new QB and who knows how well Urban Meyer will handle this season.
Alabama's toughest opponent in 2010 will be....Alabama. The Crimson Tide have already had three months to read their press clippings from the BCS Championship and will have five more months to read and hear about their preseason number one ranking.
Last season, the 'Bama players were motivated all year long by the two season ending losses in '08, especially the SEC Championship Game. You saw that motivation when the Tide came out in Atlanta clearly the hungrier, more focused team.
Where does the Tide's motivation come from this year?
In 2004, Saban led the defending champion LSU Tigers to a 9-3 record. His style is known to be tough and demanding.
After the 2008 title, Meyer put his Gators through their toughest off season yet to try and keep them on top. But you could tell Florida was not enjoying last season nearly as much as the season before. It was as if they were carrying those expectations as a burden every week.